We have provided links to some of the more commonly asked questions below, but if
you would like more information or have other questions, please feel free to
Contact Us.
General Questions and Information:
Registration Questions:
Questions for Businesses:
If you have a question that you think should be added to this list please send us
an e-mail.
Answers for General Questions and Information:
1. What is SeniorDiscounts.com?
SeniorDiscounts.com is the best place to find information about senior discounts on the internet. Founded in 2000, when founder Doug Brown began to wonder where (besides the movies) he could put his age to work for him, the site has grown to include more than 135,000 discounts across the country. We've found a lot of the discounts ourselves, but we also rely on our membership to point out new discounts as they discover them around their communities.
Our services have come to include articles and weekly newsletters about how to find discounts, and we have recently added a printed SeniorDiscounts Guide Book and a Senior Discounts Card to give our members more ways to save.
The Guide is a portable version of our database, which allows its owners to find discounts wherever they happen to be. As we've developed strong relationships with businesses that want to attract the senior market, we were able to work with them to create the SeniorDiscounts Card to offer large, members-only discounts to our members.
Though the look of our site and some of the things we offer have changed, our goal will always be the same: to help the mature community save money by finding and publicizing age-related discounts.
2. What do I do if I have problems with your web site?
If you are experiencing problems with our web site, please e-mail us at info@seniordiscounts.com.
3. Will you share my information with anyone else?
SeniorDiscounts takes privacy very seriously, and it is our policy not to sell or share your contact information to anyone. For our complete Privacy Policy, click here.
4. What are the terms and conditions of membership?
SeniorDiscounts Member Terms and Conditions
As of January 2014
The applicant must be age 50 years or older at the time of applying for a SeniorDiscounts Membership. Business providers may request additional forms of identification or proof of age from time to time.
The SeniorDiscounts Card is not transferable and remains the property of SeniorDiscounts.
The member must advise SeniorDiscounts if the member changes address during the period of membership.
No refunds on membership are available.
If a card is lost or stolen a replacement card can be issued. Charges may be applicable.
The member agrees to the disclosure of the member's information to SeniorDiscounts for the purpose of processing application forms and the mailing of SeniorDiscounts offers and information.
Any individual who wishes to become a member must agree to be bound by these Terms and Conditions, which may be changed from time to time.
Answers for Registration Questions:
Many of the discounts and tips available on SeniorDiscounts are free with Basic Registration, but to receive the full benefits of our six years of knowledge, you will have to pay a small fee. These are the three types of membership:
Basic Registration
Basic Registration with SeniorDiscounts is free. Basic members have access to our free newsletter, discussion boards, and news and articles that can help them save money by pointing out thousands of generally available discounts. Registration also includes the ability to make basic searches of our database, allowing members to see how many discounts are available within their search parameters. However, Basic Registration does not include specific details about individual discounts contained in the database.
Premium Registration
Premium Registration is just $12.95 per year. For a little more than a dollar per month, Premium Members get all the benefits of Gold Membership, plus a copy of the SeniorDiscounts Guide Book (4.95 shipping and handling) and a personalized SeniorDiscounts Card. The Card gives Members access to thousands of member-only discounts we have negotiated with select businesses, while the Guide Book allows members to take all the information in our database with them wherever they go. Premium Membership pays for itself with one or two discounted purchases, and it has the potential to save you hundreds of dollars over the course of a year.
There are literally hundreds of thousands of discounts available exclusively to the older market in the US. Unfortunately, most businesses do not advertise or post discounts, so it can be hard to track them down.
SeniorDiscounts has made it our business to do make discounts easy to find. Since July of 2000, we have been searching high and low to compile a list of discounts to help seniors save money, and we continue to add hundreds of news discounts every month. We've also learned a lot about how to find discounts, and we share our knowledge in weekly newsletters and articles. There is no one else who knows how to find discounts as well as we do.
We have found discounts at many business you would expect to have them (restaurants, hotels and travel agencies, movie theaters), but we have also found discounts at retail chains, auto shops, pet stores, and an array of local businesses. Registering with SeniorDiscounts allows access to our discount database and, depending on the membership level, also entitles our members to specially-negotiated discounts.
We have also expanded our service by publishing the SeniorDiscounts Guide Book, which includes all the information in our database and allows Members to take our expertise with them wherever they go.
To become a member of SeniorDiscounts, either:
4. What types of discounts can I find at SeniorDiscounts?
Discounts can take many forms. Most discounts are a percentage off of normal purchase prices. However, there may be two-for-one specials, coupons, or free items provided with a purchase.
We have found discounts at many different types of businesses located all over the country, including (take a deep breath):
Airlines
Auto Services
Car Rentals
Communications
Cruises
Arts & Entertainment
Food & Beverages
Grocery Stores
Golf
Health & Nutrition
Assisted Living Facilities
Home & Garden
Legal & Financial
Lodging
Medical & Pharmacy
Movies
National & State Parks
Pets
Personal Care & Services
Real Estate Services
Restaurants
Shopping & Retail
Sports and Recreation
Transportation Services
Travel Agencies
Computers & Internet
We're always looking for more ways to save you money, so check back with us often to see what else we have found!
5. How do I search for discounts?
Anyone can search for discounts on the SeniorDiscounts web site. Just click "Discount Search" on the toolbar at the top of this page. However, non-members and Basic Members can only retrieve the number and types of businesses that offer discounts within their area. Gold and Premium members can search by category and will be able to access all relevant discount information, as well as contact information, maps, and any specials discounts.
The search results will list member-only discounts as well as thousands of other senior discounts that are available to the general senior public in different age categories. Discounts available only to members will display the SeniorDiscounts logo next to the name of the business. To receive members-only discounts, a SeniorDiscounts Card must be presented at the time of purchase.
6. What is the SeniorDiscounts Card?
The SeniorDiscounts Card is a special discount program for our Premium Members. As part of a program owned and operated by SeniorDiscounts, the Card provides specially negotiated discounts on thousands of products and services available. These discounts are available only to Cardholders. Unlike similar existing programs, we have no political agenda and are focused only on creating and finding the best discount opportunities for seniors.
7. How do I qualify for a card?
While anyone can register for Basic Membership to find discounts for family and loved ones, Premium Membership is currently for people 50 years of age or older. International visitors are welcome to join as well.
The card can be used at any business that is listed as a member in the search engine on our web site or displays our logo at its place of business. Participating businesses will also be listed in the SeniorDiscounts Guide Book. Any new discounts will be announced in our newsletters so you will always know what discounts are available to you.
Pursuant to our dedicated effort to find the best discounts available, we are constantly adding information about generally available discounts while creating exclusive new discounts for Premium Members.
9. Do couples need separate cards?
While some discounts associated with the Premium membership and available with the SeniorDiscounts Card may benefit a couple (for example, hotel rooms or car rentals), the SeniorDiscounts Card is not transferable and may only be used by the cardholder.
10. What does the card look like?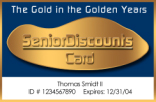 11. How long will it take to receive the card?
Once the application form and payment are received, it should take approximately three weeks to receive your card.
Answers for Business Questions:
SeniorDiscounts is the largest directory of discounts for people over 50 years of age.
There is no other place that has such a wealth of discount information for the mature market.
SeniorDiscounts currently has over 50,000 members and receives over 60,000 unique visitors
to its web site every month.
We attract members by providing them access to our database of over 250,000 discounts,
weekly newsletters and columns, discussion forums, SeniorDiscounts Cards (which entitle
them to special discounts all over the country), and an annually published SeniorDiscounts Guide Book.
For our unparalleled efforts to serve the senior community, we were awarded the 2005
American Society on Aging's Business and Aging Award. The Wall Street Journal alos has named
SeniorDiscounts one of the top places to find discounts and deals.
Almost any business can provide a senior discount and list it with us.
Discounts can come in the form of a percentage off your service or product — 10% off,
for example — or a set dollar amount deducted from a given purchase – like $10 off purchases
of over $50. Businesses can also offer two for one specials, a free gift with purchase,
discounts that are applicable during certain times of the day, or even free shipping.
Businesses that list their discounts with SeniorDiscounts will be listed on our web site
and in the SeniorDiscounts Guide Book. Business who purchase a Premium Listing will also have
the opportunity to post their discounts in our newsletter, which reaches over 50,000 people weekly.
We would be happy to answer any questions for you or help you come up with some discount
ideas. Just contact us.
Business registration with the SeniorDiscounts is free. To list your business, all you
need to do is create a senior discount to register with our web site. To list your business,
click here.
Whether or not you choose to list your business with us, offering a senior discount
is a great way to attract new customers because it doesn't cost anything up front and it
demonstrates your business' dedication to serving the senior community. It's a form of
promotion that you only have to pay for (via discounted products or services) after it has
brought in new business.
Premium Listings – SeniorDiscounts also provides the ability for your business to
stand out from the other 140,000+ businesses on our web site with a Premium Listing. For
$29.95 per year, businesses can add a logo to their listing, have their listing placed at
the top of search results, provide special discounts and announcements in the Hot Deals section
of your listing, and promote your business to the 40,000 subscribers of our weekly newsletter.
Most businesses can recover the price of an enhanced membership with just one or two
new sales. Compared to the cost of attracting new customers through other means, many businesses
have found this option to be a helpful supplement to more traditional forms of advertisement.
Businesses can opt for premium status when registering on our web site. Click here to register.
4. What are the benefits for registering as an enhaced business?
SeniorDiscounts provides a proven method for reaching the rapidly-growing senior population.
Currently, SeniorDiscounts receives over 60,000 unique visitors every month and publishes a
weekly email newsletter that reaches over 50,000 people. SeniorDiscounts was the winner of
the American Society on Aging Business and Aging Awards, and has been named a top discount
site by both The Wall Street Journal and CBS Marketwatch. We have also received positive press
from the NY Times, LA Times and The Today Show, among others.
Click here to see some of the articles that have been
written about us.
Seniors are the fastest growing age group in the nation. There are currently over 76
million seniors over the age of 55 in the United States and the demographic is growing
rapidly. Seniors also control three quarters of the personal wealth in the United States
and over 50% of the disposable income. For more information on the senior market,
click here.
Businesses who register with a Premium listing will receive a priority placement in our search
engine as well as in the printed version of our directory, The SeniorDiscounts Guide Book. Businesses
will also be mentioned in our newsletters and will have opportunities to announce special offers or
savings to our 50,000 members.
5. How do I register my business?
(You will need the free Adobe Acrobat Reader to view and print the application file. You can obtain Acrobat by clicking on the image below.)
6. What happens after I register?
SeniorDiscounts will contact you to verify your discount and business information. After verification, SeniorDiscounts will make your information available to our users. We will also mail you our New Business information pack, which contains information on how to use senior discounts for the maximum benefit of your business, our members, and the senior community at large. (Is this something that's available only to enhanced members? Should it be included as a perk on the Business Solutions page?)
7. How do I change my business information?
Current business members can update their contact information and other discount details by logging
into our site. Click here to log in.
Businesses may also update their information by emailing
business@seniordiscounts.com, with their changes.
If you choose to email us, please include your business name as well as your contact information in case
we need to reach you.
8. Will you sell or use my business' information in any other ways?
We respect the privacy of our members – both the businesses and the senior users – and our general
policy prohibits the sale or dissemination of user information to third parties. On occasion, we may
license out content in the form of our newsletters, columns, or access to our search engine. Such
licenses will make information about the discounts your business offers more widely available, but
they will not compromise your privacy or lead to unwanted solicitation. For more on our privacy policy,
click here.
9. Are there any other ways I can reach out to the senior market?
In addition to our business listings, we also offer advertising opportunities and private-labeled
products and services. To learn more, please see our Business Solutions Page.
10. Business Terms and Conditions
SeniorDiscounts Business Terms and Conditions
As of January 2007
SeniorDiscounts business providers agree to the following terms and conditions:
SeniorDiscounts, its contractors and representatives make no representation that any minimum number of sales will result from participation in the program.
The proposed discount offer will be available to SeniorDiscounts members and that it conforms with the description provided to SeniorDiscounts; whether residents of the United States or other countries.
The discount offer may not be changed or substituted without disclosing the change to SeniorDiscounts.
The offered discount will remain valid for at least a twelve month period from submission to SeniorDiscounts;
Business membership in the SeniorDiscounts program ceases when the exclusive discount is withdrawn or is no longer available to card members.
Business membership may be withdrawn by SeniorDiscounts where the business provider fails to comply with these terms and conditions or legal or ethical business practices.
SeniorDiscounts can refuse, at its discretion, to admit applicants to the program.
Business membership may be terminated by business members with notice to SeniorDiscounts.
Any complaints received by SeniorDiscounts regarding the provision of the business provider's discount to card members will be investigated in a timely manner.
The SeniorDiscounts logo will be displayed, if applicable.